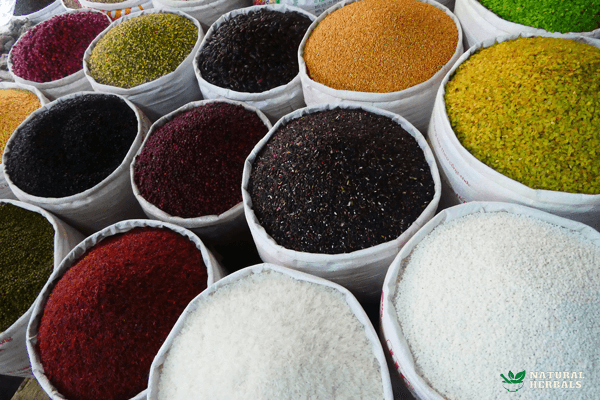 Making herb mixes is fun, tasty, and cheaper than buying pre-packaged herb mixes. Moreover, you can compose a spice mix exactly to your own taste preference. In addition, you know what's in it; manufacturers can sometimes tamper with the composition of herbs.
It is also instructive to know how spice mixes are put together. Maybe one day you will invent a spice mix that will conquer all kitchens in the world. This article describes 11 famous recipes for spice mixes from around the world.
Sometimes a spice mix will say that there are optional spices to add. Optional means: of your own choice. A spice mix is a base. A spice mix is not subject to fixed laws; you can vary it.
Sometimes regional variations arise. Another time a cook will make a favorite variation. Every cook wants to surprise his dining public with even tastier variations.
When it says optional after a spice then you can vary on the basic mix. For example, what you can do is store the base mix in a large jar; you can use it just fine. In addition, you can add one of the optional herbs to this base.
Zing
By putting together your own spice mixes, you can adjust the sharpness. A spice mix from the store is not sharp enough for some people and often too sharp for others, especially children. You could make a spice mix without cayenne pepper, chili powder or paprika so that children can eat it without problems.
Grinding herbs by hand
Herbs can be ground in a blender. That's pretty much how it's done in a factory, in that herbs are ground in an automatic way. But at home you can also choose to do it by hand. You can finely grind herbs in a mortar.
A blender has the disadvantage that the spices become hot due to friction. This leads to loss of flavor. Grinding with a mortar is a bit of hard work, but the result will be tastier. Hand-ground spices are almost nowhere to be bought anymore; you can only make them yourself. This gives an extra dimension to mixing herbs yourself.
Storing herbs
If you make one or more of the spice mixtures below, it is wise to keep them in a sprinkle canister. You can also make so much that the spices can be kept in a storage canister. That way you can replenish the sprinkle canister yourself.
Many of the herbs discussed below can be used daily. Then people can season their food as they like. Make sure you can offer an assortment of spices; in addition to salt and pepper, you can put spices like five-spice powder, cajun spices and gomasio on the table. Spices can be stored for several years.
Popular Home Made Spice and Herbal Blends
Five-spice powder
Five-spice mix should be on the table when you eat Chinese.
Szechuan pepper
Chinese cinnamon
Cardamom
Anise
Salt
Sometimes there are some variations in five-spice powder. There may be more than five spices in it as well. Instead of anise, you can use fennel powder or star anise; it also tastes like anise. Another change is cinnamon instead.
Furthermore, you can use plain pepper as a substitute for Szechuan pepper. Optionally, add a small amount of ground cloves. You can use Himalayan salt or sea salt instead of ordinary salt; it is actually tastier.
Speculaas spices
Speculaas spices are also called cookie spices. In the Netherlands, these spices are used to make the famous speculaaskoeken (cookies) that are eaten especially in winter. The history of speculaas is interesting and harbors many elements of world history.
Many spices in speculoos have a warming effect like ginger and white pepper. Therefore, this is extra delicious in the winter. Of course, speculaas can also be eaten in the summer.
30 g cinnamon
10 g Cloves
10 g Nutmeg
1 g Ginger powder
5 g Anijszaadjes
5 g Coriander seeds
5 g White pepper
Optional additions to speculaas spice:
5 g ground mace
1 g Cardamom
Tea herbs ginger, star anise, licorice, cinnamon
Of course, there are countless, perhaps infinite, varieties of herbal teas. These herbs make a delicious tea reminiscent of chai. You could add milk and honey. This tea can be supplemented with fennel seeds, red pepper, and cloves to make it closer to a chai.
It is recommended to use fresh ginger instead of dried ginger powder. But you can also fill a storage canister with these tea herbs; then, of course, you can use only dried herbs. Mix the herbs in approximately equal parts.
Digestive herbal mixture
After meals, people in India, Pakistan, Iran, and other Asian countries chew on a spice mixture of coriander, caraway, and cardamom because it aids digestion and makes the mouth nice and fresh.
Especially after a meat or fish dish, it is nice to refresh the mouth. You serve this fresh herb mixture in a small bowl with a spoon; you can fill a spoon, put it on your hand, and put it in your mouth.
Herbes de Provence
Herbes de Provence are French herbs. They are delicious herbs with all kinds of vegetable dishes. For example, try herbes de Provence with mushrooms. This way you can give each vegetable a Provence flavor. Herbes de Provence can also be used on an omelet, on a salad or over boiled potatoes.
Ingredients:
1/2 cup thyme leaf
1/4 cup marjoram leaf
Two tablespoons of cut and sifted rosemary leaf
Two tablespoons sage
One teaspoon lavender flowers
One teaspoon fennel
Optional: 2 teaspoons of dried orange peel. Of course, use only organic orange peel because there are always pesticides in and on the peel of regular oranges.
Italian herbs
Mix the herbs below in equal parts. can be used for typical Italian dishes such as pizza and pasta. It is delicious to bake bread with . You can also add them to a salad, soup or omelet.
Thyme
Rosemary
Basilicum
Oregano
Tarragon
Optional: red pepper, parsley, sage and celery.
Curry powder
Curry spices are a delicious addition to rice. You can cook rice in curry spices or add it to the rice when it is just cooked; this way you get light yellow curry rice. In addition, you can make a curry sauce by cooking all kinds of vegetables until tender and mixing them with cream and curry spices.
Curry is a spice mix. You can supplement the basic mix with optional curry spices. These make all the difference in local curries. There are several spices that you can add to the curry as you choose.
½ Cup of paprika
¼ Cup cumin powder
¼ Cup turmeric powder
1 Tbsp. fennel powder
2 Tbsp ground mustard powder
1 teaspoon cinnamon powder
Optional curry spices:
1 Tbsp ground red pepper( for more sharpness)
2 Tablespoons fenugreek powder (for more sweetness)
3 Tbsp ground coriander
1 teaspoon cardamom
Half a teaspoon of ground cloves (for a more complex taste sensation).
Gomasio
Gomasio is very simple to make. It is sea salt with ground sesame seeds. In the 1970s, gomasio was widely used in alternative circles. Nowadays you can still buy it in organic stores. Making it yourself is much cheaper.
You can sprinkle gomasio over salads, or over a sandwich with cheese, peanut butter, tahini or other nut spread. In addition, some people sprinkle it over a rice or pasta meal.
Taco seasoning
Taco seasoning is somewhat sharp. It is a nice mix for in the taco but it can also be used in a spicy vegetable dish with cheese. You can also use taco seasoning to spice up a rice dish.
¼ Cup chili powder; You can use dried chili and powder that
¼ Cup cumin powder
1 Tbsp garlic powder
1 Tbsp. onion powder
1 Tbsp. freshly crumbled oregano leaf or oregano powder
1 teaspoon paprika
1 Teaspoon ground pepper
Optional: ¼ cup Himalayan salt or sea salt.
Cajun spices
Cajun spices could also be called red salt. It is mainly a salty taste that stands out. In addition, cajun spices are a bit spicy, especially if you add cayenne pepper. You could put cajun spices over baked potatoes or fries; that's a nice variation.
½ Cup of paprika
⅓ Cup of Himalayan salt or sea salt
¼ Cup garlic powder
2 Tbsp. black pepper
2 Tbsp. onion powder
2 Tbsp. oregano leaf
1 Tbsp. thyme leaf
Optional: 1 tablespoon cayenne pepper; if you don't add cayenne pepper, the cajun mix won't be very sharp. Some people don't like sharp. Unsharp mixes are fine for children. Children, in general, can't handle sharp dishes as well as adults.
Minced Meat (Burger) Spice
You'll need this for meat seasoning:
1 teaspoon ground white pepper
1 teaspoon ground coriander
1 teaspoon ginger powder
½ teaspoon ground nutmeg
½ teaspoon ground cardamom
a little chili powder
Summary
Making your own spice mixes is fun, easy, and wholesome. You get to cut down on preservatives and other additives and you get your food tasting just the way you like it. Give it a go, I'm sure you will enjoy it.