FACT CHECKED: MARCH 2022
We know more and more about turmeric and its health-promoting properties. It is most commonly used in cooking as a spice or natural food colorant. It is worthy of being combined with black bell pepper and paprika.
Curcumin is the key active ingredient in turmeric.
Curcumin has considerable therapeutic potential. It is an anti-inflammatory, anti-diabetic, anti-cancer, and anti-aging agent. This is supported by numerous in vitro, in vivo and clinical studies. In addition, curcumin can inhibit the spread of parasites and it is a traditional Ayurvedic medicinal compound.
Topics Covered in this Article:
Chemical composition and nutritional value of turmeric
Biological effects of turmeric essential oils
Turmeric in the kitchen
Recipe for golden milk
Turmeric paste
Use of turmeric in diseases
Inflammation of the gallbladder
Cancers
Osteoarthritis
Atherosclerosis and cardiovascular disease
Diabetes
Inflammatory bowel disease
Helicobacter pyroli infection
Parkinson's disease and Alzheimer's disease
Use of curcumin in other diseases
Turmeric and the state of intestinal microbiota
Bioavailability of curcumin
Dosages and use of turmeric
Curcumin. Side effects and drug interactions
Turmeric. Topic Summary
Turmeric is a member of the ginger family and is obtained from the roots of the Curcuma longa L.
Curcuma is commonly grown on the entire Indian subcontinent and in tropical countries, where it can be found in the following areas
Curcumin has attracted a lot of attention in recent decades due to its great therapeutic potential as an anti-inflammatory, anti-diabetic, anti-cancer and anti-aging agent. This is supported by numerous in vitro, in vivo and clinical studies. In addition, curcumin can inhibit the spread of parasites, bacteria and pathogenic fungi
.
Chemical composition and nutritional value of turmeric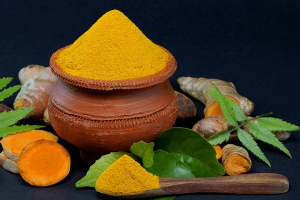 Turmeric consists mainly of carbohydrates, more precisely starch (almost 70%). 100g of turmeric provides the body with about 390 calories. In turn, protein makes up about 6%, while fat 5%. Turmeric also contains minerals and vitamins: calcium, iron, sodium, potassium, thiamine, riboflavin, niacin, and ascorbic acid.
Turmeric is rich in 3 to 5% polyphenolic compounds (curcuminoids) . These compounds include:
curcumin – one of the best known and tested
demethoxycurcumin
bisdemetoxycurcumin
cyclocurcumin
Turmeric has a rather characteristic smell, largely due to essential oils (2 to 7%). Basically, the essential oils of the Curcuma species are obtained by distillation – by water or steam, of fresh or dry rhizomes. The dominant substances in the oil are:
ar-turmeron (25%)
α-turmerone (18%)
β-turmerone (12%)
β-caryophyllen (2.2%)
eucalyptol (1.6%)
α-phellanderen (up to 0.5%)
Biological effects of turmeric essential oils
Certain turmeric essential oils have remarkable antioxidant and antibacterial effects , making them ideal candidates for use in the pharmaceutical and cosmetic industries. Differences in chemical composition indicate the possibility of different biological activities of the same plant species from different locations. Here are a few of the biological effects of curcumin:
Turmeric (C. longa) essential oil – the most popular. This essential oil can provide protection against cardiovascular disease. The oil has been shown to have an antihyperlipidemic effect caused by an inadequate diet (rat study). There were also reductions in serum triglycerides, free fatty acids, serum total cholesterol, and low-density lipoprotein (LDL) cholesterol, while increasing high-density lipoprotein (HDL) cholesterol.
Zedoara essential oil (C. zedoaria) – This oil has shown a strong free radical scavenging effect . The antioxidant effect is used in the food industry to reduce or prevent lipid oxidation. It also showed strong, selective cytotoxic activity and inhibited the proliferation of human cervical cancer (SiHa), colorectal cancer (SNU-1), human liver (HepG2), human gastric adenocarcinoma (AGS), stellate liver cells, mouse melanoma cells (B16BL6) , human hepatoma cells.
Curcuma aeruginosa essential oil – this oil has shown antiandrogenic, antinociceptive, antipyretic and anti-inflammatory properties. In addition, topical application of C. aeruginosa extract stimulated hair regrowth in patients with androgenic alopecia.
Curcuma zanthorrhiza essential oil – has antiproliferative, anti-inflammatory, antidiuretic, hypotensive, anthepatotoxic, antioxidant, antibacterial and antifungal properties. The anti-inflammatory activity of this oil depends mainly on the content of a substance called germacron.
Wild Turmeric Oil ( C. aromatica ) – Wild turmeric oil is believed to significantly improve blood circulation, remove blood stagnation and heal cancer. The oil has also shown remarkable anti-inflammatory effects by inhibiting the production of pro-inflammatory cytokines, including protein kinase C.
Using Turmeric in the Kitchen (Spice)
Turmeric is one of the most popular spices all over the world. It is also one of the ingredients of the famous curry spice blend. It is extremely important for food processing – as a natural food coloring (gives yellow color), which plays a significant role in the organoleptic assessment of the product by consumers.
The largest amount of turmeric is consumed in Asia, especially in India (the largest producer). It is mainly added to poultry dishes, eggs, salads, vegetables and soups.
Turmeric has a light, spicy flavor with a light hint of spice. When seasoning dishes, it is best to combine it with black pepper and paprika, which will increase its digestibility. Turmeric is now readily used in the preparation of so-called smoothies or the popular golden milk (recipe below). It can also be added to coffee or tea.
Golden Milk Turmeric Recipe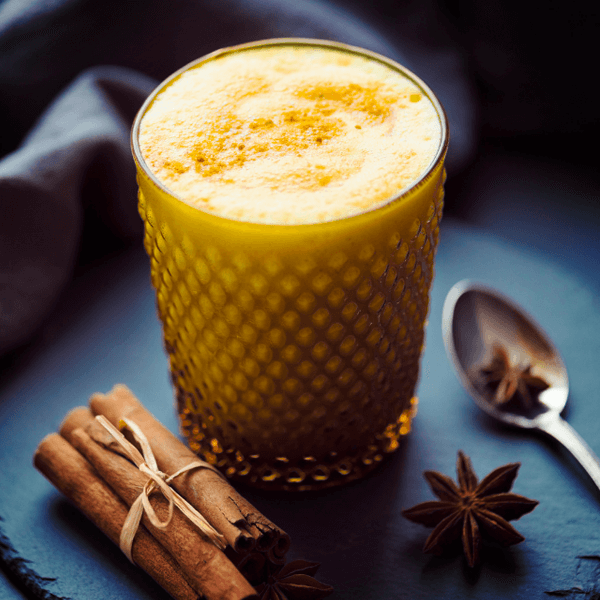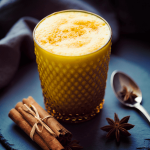 Print
Golden Milk Turmeric Recipe
Curcumin, the active component in turmeric, has been used in Ayurvedic medicine for centuries due to its strong antioxidant properties.
Instructions
A teaspoon of turmeric paste

Half a teaspoon of coconut oil

A glass of milk, preferably coconut milk (or animal milk)

Mix everything together, let it simmer lightly, but do not bring it to a boil
Notes
A teaspoon of turmeric paste,
Half a teaspoon of coconut oil
A glass of milk, preferably coconut milk (or animal milk).
Mix everything together, let it simmer lightly, but do not bring it to a boil
Recipe For Making Turmeric Paste
2 tablespoons of turmeric powder
Half a teaspoon of black pepper
Half a teaspoon of ginger
Add twice as much water as there are dry ingredients. Cook for about 8 minutes until the paste is thick. Store in a glass jar.
Using Turmeric for Treating Diseases
Treating inflammation of the gallbladder
The first therapeutic effect of turmeric was noted as early as 1748 and quite possibly even further back! In contrast, the first study on the use of curcumin in diseases was published in 1937. The study concerned the effect of curcumin containing 0.1 g to 0.25 g of sodium curcumin and 0.1 g of calcium cholate in biliary diseases in humans. Another study on the anti-inflammatory action of turmeric is also interesting.
Injecting this solution in healthy people resulted in rapid emptying of the gallbladder, while in over 60 people with gall bladder inflammation, the administration of curcumin for a period of 3 weeks resulted in a recovery from the disease, without relapse, even up to 3 years after treatment. Importantly, no side effects were noted at that time, even after continuing the therapy for several months.
Tumors
Many scientists pay attention to the potential of curcumin in the treatment and prevention of certain cancers. Studies have shown that curcumin influences the initiation of cell cycle arrest in the G2 / M phase, both dependent and independent on the p53 protein. As a consequence, the proliferation of neoplastic cells and tumor progression is limited.
Increasingly, doctors decide to use curcumin alone or in combination with other drugs to fight various types of cancer, such as leukemia, lung, pancreatic, breast, prostate, colon cancer, and squamous cell carcinoma of the head and neck, for example.
Many scientific studies show that the main component of turmeric – curcumin, prevents metastasis of neoplastic lesions. These experiments were mainly carried out in animal models – in cases of lung, liver, stomach, colon, breast, and esophageal cancer. In addition, it is confirmed by in vitro, in vivo, and ex vivo tests. Turmeric is even proven to inhibit lung cancer cell invasion and metastasis.
Researchers have also studied the effects of curcumin as an anti-inflammatory agent in patients with squamous cell carcinoma of the head and neck. Curcumin has been shown to inhibit the activity of protein kinases and inflammatory cytokines, such as TNF-α, IKKβ, IL-6 and IL-8. It is very important for the cellular response, including the regulation of growth, proliferation, division, survival, and death of cancer cells.
Curcumin can also be used to treat stomach cancer. It was observed that it inhibited the proliferation of AGS cells in a dose-dependent manner and resulted in increased expression of cyclin B1 and decreased expression of cyclin D1.
Incorrect expression of proteins regulating the activity of cyclin-dependent kinases, and therefore cyclins, is one of the most important disorders leading to the development of neoplastic disease.
Turmeric's Role in Treating Osteoarthritis
Osteoarthritis (OA) is a chronic inflammatory degenerative process that affects the joints such as the hands, hips, shoulders, feet, spine, and especially the knees in millions of people around the world. Among its different pathways of action, curcumin may reduce inflammation because of its ability to reduce the production of interleukin-1 (IL-1), IL-6, IL-8, IL-12, and tumor necrosis factor-alpha (TNF-α).
A review of research indicates and confirms the benefits of curcumin and its derivatives in cellular, animal and human models for osteoarthritis. Studies show that in addition to improving symptoms in OA patients, disease progression can slow down by reducing inflammation and damage to cartilage and bone.
Curcumin in Treating Atherosclerosis and Cardiovascular Diseases
One study investigated the effects of curcumin in lowering serum cholesterol and lipid peroxides in 10 healthy volunteers. Curcumin (0.5 g / day) administered for 7 days reduced serum lipid peroxides by 33% and total serum cholesterol by 11%, and increased HDL cholesterol by 29%. Due to these properties, it has been suggested that curcumin acts as a preventative measure against atherosclerosis.
It has also been proven that curcuminoids reduce the concentration of C-reactive protein in the circulatory system. This protein is one of the main risk factors for the development of cardiovascular diseases.
Curcumin in The Treatment of Inflammatory Bowel Diseases
Scientists have also studied the effects of turmeric on the development of diseases such as ulcerative colitis and Crohn's disease. In several clinical trials, the administration of turmeric has resulted in regression of symptoms in patients – similar to those seen in patients with Crohn's disease and chronic enteritis.
Turmeric was also given in conjunction with conventional medications, and its use was safe and well-tolerated. No side effects were observed. In patients with ulcerative colitis, administration of standardized turmeric enema resulted in greater improvement in disease activity in patients with distal UC.
In a study by Zeng et al. In rats with UC, it was observed that curcumin inhibited the expression of IL-27 and TRL4 / NF-κB, which explains its anti-inflammatory properties.
Infection with Helicobacter Pyroli
In vitro studies and in a mouse model showed that the administration of curcumin prevented the effects of H. Pylori-induced inflammation. Unfortunately, clinical trials were less optimistic. Only in a very small number of people, the administration of curcumin decreased the amount of Helicobacter Pylori. There were also no significant changes in the level of production of pro-inflammatory factors.
Turmeric Shows Potential in Treating Parkinson's and Alzheimer's
Every year, there are more and more patients with neurodegenerative diseases such as Parkinson's and Alzheimer's disease. One symptom of Parkinson's disease is degenerative changes in the dopaminergic (DA) nerve cells in the substantia nigra.
So far, there is little research, mostly on mice. They showed that supplementation with curcumin over a period of several weeks prevented the neurodegeneration of DA neurons. However, much more research is needed – preferably clinical ones.
In the case of Alzheimer's disease, research seems to be more promising. However, most of the studies have been performed in vitro or in vivo, or in a mouse model. In vitro studies have shown that curcumin has the ability to inhibit the formation of beta-amyloid plaques, as well as reduce the neurotoxicity and cytotoxicity caused by beta-amyloid (the protein that causes cell death).
The use of curcumin in other diseases
Curcumin is also helpful in diseases such as:
Bronchial asthma
Chronic dermatitis (psoriasis, vitiligo)
Gingivitis
Obesity
Depression
The administration of curcumin in patients with depression improved mood and relieved symptoms. It is suspected that this is due to the influence of curcumin on several biomarkers, such as thromboxane B2, substance P, aldosterone, cortisol, endothelin-1, or leptin.
Curcumin has also been found to be effective in treating bronchial asthma. Improvement in mean values ​​of the forced expiratory volume was observed, which represents an improvement in airway obstruction. However, in this case, more clinical trials are needed.
Researchers also looked at the effects of Meriva curcumin on psoriasis. In a randomized, double-blind, placebo-controlled clinical trial, patients demonstrated reduced disease states. In contrast, in combination therapy, Meriva increased the local anti-psoriatic effect of steroids.
Turmeric Affects Intestinal Microbiota
As is already well known, the walls of the human mucosa are inhabited by a very diverse community of microbes, which consists mainly of bacteria, but also viruses, fungi, archaea and protozoa. The composition of the intestinal microflora changes with age and is also closely related to the diet. Our digestive tract is inhabited by a large number of microorganisms, even 100 trillion bacteria.
Studies show that turmeric taken orally or intraperitoneally can affect the gut microbiome
Turmeric influences, among other things, the richness, variety, and composition of beneficial microorganisms inhabiting our intestines.
The administration of curcumin significantly changed the ratio between beneficial and pathogenic bacteria, increasing the number of Bifidobacteria, Lactobacilli, and reducing Prevotellaceae, Coriobacterales, Enterobacteria, and Enterococci.
In mice, administration of curcumin resulted in the reduction of several intestinal microbes such opportunistic pathogens as Prevotellaceae, Bacteroidaceae, and Rikenellaceae.
Several studies have also shown that curcumin reduces inflammation in the gut, mainly by modulating various molecular pathways. It has been suggested that curcumin may also have neuroprotective effects by modulating the homeostasis of the gut-brain axis.
How does the body take up curcumin? (Bioavailability)
The oral bioavailability of curcumin is low due to relatively low intestinal absorption and rapid hepatic metabolism followed by elimination via the gallbladder.
For example:
An oral dose of 0.1 g / kg administered to mice resulted in a maximum plasma concentration of free curcumin of only 2.25 µg / ml. In another clinical study with an oral dose of 3.6 g of curcumin, plasma level low: 11.1 nmol L-1, detected one hour after oral administration.
Even after consuming high doses of curcumin – within 8 g per day, the level of free curcumin in the plasma was negligible. This is the biggest challenge for scientists right now.
To increase the bioavailability of curcumin, it has been combined with various adjuvants that may affect its metabolic pathway. One of the most popular additives to preparations with curcumin is piperine – it is a black pepper alkaloid. It is added for a reason. Research shows that adding 20 mg of piperine together with curcumin resulted in its higher concentrations within 30 minutes to 1 hour after treatment, and piperine also increased the bioavailability of curcumin by 2000%.
Piperine prevents the metabolism of curcumin by inhibiting the processes of glucuronidation (glucuronidation is a phase II process of drug metabolism responsible for the biotransformation of a large part of medicinal substances).
Other substances considered to improve the bioavailability of curcumin include the use of nanoparticles, liposomes, phospholipid complexes, and structural analogues .
A good example is the so-called Meriva – it is a patented combination of a curcumin complex with soy phosphatidylcholine. In a randomized, double-blind human study, it was observed that the absorption of curcuminoids was approximately 29 times higher with the Meriva mixture than with the unformulated curcuminoid mixture.
There is also new research on the biotransformation of curcumin by the gut microflora. It is believed that the transformation of curcumin occurs not only thanks to enzymes produced by enterocytes or hepatocytes, but also to a large extent by enzymes produced by our intestinal microflora.
It follows that each of us will have a different transformation of curcumin – depending on the diversity of the composition of the microbiota. Therefore, the bioavailability of curcumin depends not only on the polyphenols obtained from food but also on the type of microbial population found in our gut.
Dosage and Use of Turmeric
Curcumin is considered a safe substance and there are no major obstacles to its use. Prophylactically, it is best to add it to seasoning dishes, of course with the addition of black pepper and paprika. It is also worth having fat in such a dish – it has been proven that this combination also improves the absorption of curcumin.
There is no exact amount of turmeric or curcumin that you should consume. The acceptable daily intake in the light of the recommendations of the European Food Safety Authority (EFSA) is 3 mg / kg body weight, which for a human with an average weight of about 70-80 kg is about 200-250 mg.
Pregnant women are an exception, as curcumin taken in excessive doses may cause uterine contractions, leading to miscarriages.
Curcumin Side Effects and Drug Interactions
Curcumin is considered a safe substance that does not cause unpleasant side effects. Only strong extracts of turmeric and black pepper can cause gastrointestinal symptoms such as diarrhea, nausea or stomach upset.
Turmeric, having a strong antioxidant effect, may interact with chemotherapeutic drugs such as cyclophosphamide and doxorubicin. Curcumin is also known to interact with CYP 450 enzymes, so caution should be exercised when combining with substrate drugs. Also, due to its antiplatelet properties, curcumin may increase the risk of bleeding when used with anticoagulants.
Interesting research was conducted in 2006. Dose escalation was investigated to determine the maximum tolerability and safety of a single dose in 34 healthy subjects. Volunteers were given incremental doses of curcumin ranging from 500 to 12,000 mg, and safety was assessed 72 hours after dosing. 24 subjects completed the study, 7 of them experienced minimal toxicity that did not appear to be dose-related. More specifically, these 7 participants experienced diarrhea, headache, rash, and yellow stools.
Conclusion
Among the many herbal preparations available today, curcumin is very popular. Its popularity is growing due to its many healing properties. Research confirms curcumin has the following properties:
Antioxidant
Anti-Inflammatory
Anti-Cancer
Anti-Arthritic
Antiatherosclerotic
Antidepressants
Anti-Aging
Anti-Diabetic
Antimicrobial
Healing Wounds
Improving Memory
Turmeric is safe to use, even at high doses. Bioavailability, however, is a problem. Scientists are currently working on finding a way to help the body take up curcumin.
In the case of supplementation, it is best to choose curcumin in combination with piperine. At the same time, as research shows, it is necessary to take care of the condition of the intestinal microbiota so that it can create appropriate enzymes to absorb not only curcumin but also other polyphenols found in food.